International reggae artist Nego Hights collabs with Afro-Argentine singer Fidel Nadal in a powerful new track about African identity and self-love
September 9, 2022 – International artist Nego Hights has joined Afro-Argentine reggae musician Fidel Nadal for a powerful anthem, 'Real Afrikan.' The song carries entertaining reggae melodies, but at its core is a strong message of empowerment for black people worldwide. The song and video will drop Friday, September 9.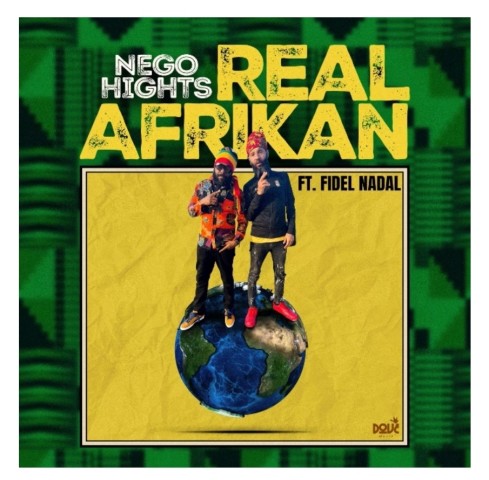 'Real Afrikan' encourages people of African descent to embrace and accept their ancestry. The song has a resounding message of the pride associated with being black. It also seeks to clarify that even though there are black people who are not directly from Africa, they are still African due to their DNA.
The intro line, "no matter where you come from, as long as you're a black man, you're an African," is similar to the message of the 1977 song 'African' by the late reggae musician and former "Wailers" member Peter Tosh. In 'African,' Tosh also encouraged black people to celebrate being African regardless of origin. Tosh is also one of the significant influences of Nego Hights.
Almost fifty years after Tosh's song was released, Nego Hights and Fidel Nadal are bringing the modern message of black unity and self-love. The two began communicating via the internet for years until they eventually ran into each other at a Chicago nightclub. Their vibes and energy matched, and they decided to transfer this to a project. Nego Hights says that Fidel Nadal wrote and recorded his verse in less than half an hour.
Nego Hights, who hails from Biscayne Village, Belize, grew up as a Seventh-day Adventist. However, he eventually converted to Rastafari after listening to and learning about reggae. He enjoys the musical works of other reggae artists like Peter Tosh, Bob Marley, Eric Donaldson, Buju Banton, Sizzla, and Capleton.
While Fidel Nadal was born in Buenos Aires, Argentina. He developed his musical interest from his parents. His love for reggae started when he discovered a Peter Tosh album in a local record shop. He then started listening to other reggae artists like Bob Marley and learning about injustice and the Rastafarian movement.
Nadal became the co-founding member and lead singer of Rasta punkers Todos Tus Muertos and founder of roots reggae trio Lumumba. He went solo in 2001 and has since released 21 albums as a solo artist and collaborated with over 70 artists and groups. He was featured on the covers of Argentina's Rollingstone Magazine in 2009 and 2012.
'Real Afrikan' is produced by Wadadah II, a friend of Nego Hights. Wadadah II is also the CEO of D.O.V.E Muzik; the label Nego Hights is signed to. An exciting music video accompanies the song, directed by Tzaddi Wadadah and Kareem Etyem.
'Real Afrikan' will be available for streaming and purchase on all major digital music distribution platforms, including Spotify, Apple Music, Amazon Music, Tidal, and Deezer.
The link to the music video is https://www.youtube.com/watch?v=s2CTLxnJwMA.
Nego Hights also has other projects in the pipeline, including his first Afro beats song, which is set to be released soon. Additionally, he is making preparations to embark on his upcoming tour.
For more information on Nego Hights, find him on Facebook, Instagram, and his website.
Media Contact
Company Name: D.O.V.E Muzik
Contact Person: Kareem Etyem
Email: Send Email
Country: United States
Website: http://www.negohightsmusic.com/