Are You Curious About Display Technology Trends That Will Soon Impact Your Business?
Display Technology Trends
The explosive growth in entertainment and online gaming keeps audiences occupied with smartphones, tablets, and televisions for longer.
High demand for superior visual experiences is driving innovation in display technologies. As a result, LCDs are being replaced by LED display technologies such as organic LEDs (OLEDs) and micro-LEDs. The explosive growth in entertainment and online gaming keeps audiences occupied with smartphones, tablets, and televisions for longer.
Overview of Display Ecosystem: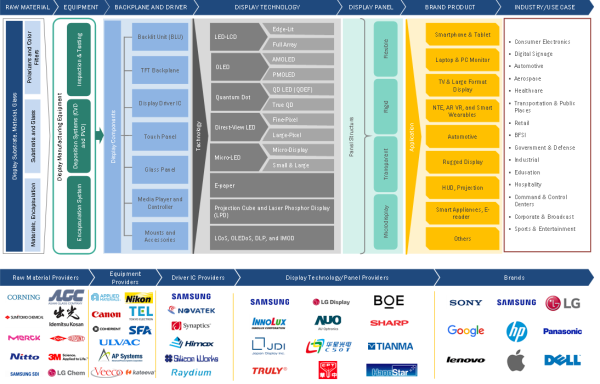 Key Trends in Display Technologies:
Quantum Dots
OLEDs
Micro-LED Displays
Laser-based Displays
Projection/Holographic Displays
Flexible Displays
Quantum Dots (QLED):
Quantum Dot LED (QLED) is an advanced LED with long operational life and high energy efficiency. QLEDs emit red or green light, unlike conventional LEDs, enabling more saturated and accurate colors. Presently, this technology is prominent in televisions. However, startups and scaleups are leveraging quantum dots to enhance gaming experiences by developing high-performance monitors. For instance, QustomDot (Belgium) developed a QD technology to be used directly on LED chips, which allows users to target new applications such as high-quality micro-LEDs.
OLED:
OLED displays are more efficient than LCDs and do not require a backlight. Moreover, OLEDs provide better image quality with enhanced brightness and contrast. These displays feature a wider color range, faster refresh rates, and fuller viewing angles. Therefore, they are better substitutes for LCDs and plasma displays. Smartphone, automobile, and wearable manufacturers use OLED screens for wrap-around, rollable, and always-on displays.
Micro LED Displays:
Micro LED displays are comprised of numerous microscopic LEDs that self-illuminate per display pixel. These displays are better than OLED displays in terms of power consumption, contrast ratio, and lifespan. Micro-LED displays use inorganic materials and feature ultra-low black levels with higher peak brightness. Porotech (UK) offers full-colored micro-LED DynamicPixelTuning (DPT) that allows manufacturers to replace red, green blue (RGB) sub-pixels with a single pixel to create any color in the visible spectrum. As a result, semiconductor companies leverage this technology to engineer porous GaN materials for displays better.
Laser-based Displays:
Laser-based displays find applications in video and projection technologies. Two or more modulated optical lasers are used as the light source in these applications. Consequently, these displays obtain high-fidelity images with a large color gamut and better viewing comfort. Thus, the images are always laser sharp, even when projecting onto curved or uneven surfaces. Laser televisions and pico projectors utilize these laser systems.
Projection or Holographic Displays:
Projection or holographic display technologies find applications in architectural and advertising industries as major real-world and information tools. The scope of projection technologies has become broader with holograms, window signage, and 3D image protection. Lux Labs (US) is a startup that develops transparent display films (ClearBright). Using specialized nanoparticles, these films can transform any clear surface or window into a display screen. It enables portable transparent, and exceptionally bright displays that work with various projectors. This solution is being prominently used in gyms, restaurants, and retail storefronts.
Flexible Displays
Flexible displays are proving to be an impressive innovation owing to their thin, lightweight, and unique form factors. Unlike rigid glass substrate-based displays, flexible displays are less prone to breakage. These displays offer low-cost roll-to-roll manufacturing and find applications in automotive head-up displays (HUDs), smartphones, and wearables. Major uses of flexible displays include foldable smartphones, signages, and electronic paper for dynamic posters.
Media Contact
Company Name: MarketsandMarkets™ Research Private Ltd.
Contact Person: Mr. Aashish Mehra
Email: Send Email
Phone: 18886006441
Address:630 Dundee Road Suite 430
City: Northbrook
State: IL 60062
Country: United States
Website: https://www.marketsandmarkets.com