The Indie Style with Leah DeVon Show Summer Series Airing in June
Leah DeVon's Indie Style with Leah DeVon Show Shines a Spotlight on Top Independent Entrepreneurs and Businesses Across the Globe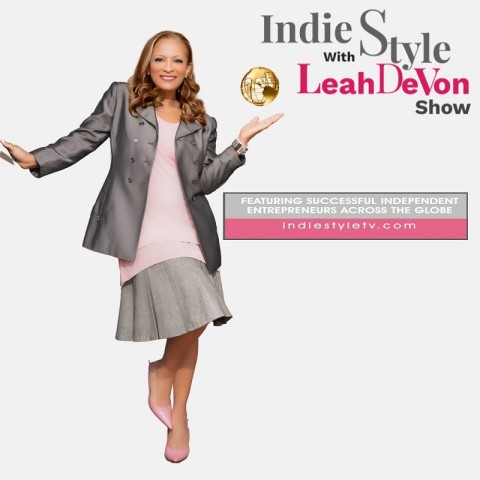 Atlanta, GA – June 1, 2023 – There's a talk show host making a splash in the world of media and doing things her way, and her name is Leah DeVon. Leah DeVon is the creator and host of the popular Indie Style with Leah DeVon television and entertainment talk show. Indie Style shines a light on innovative and inspiring independent entrepreneurs who are thriving in their industry.
The shows summer series kicks off June 2nd with Marketing Director Kalim Kalla of M&M Products, renowned for their innovative all-natural haircare, health and beauty solutions that cater to diverse needs. Also featured in our lineup is an exclusive Beverly Hills Eyewear Line, bringing fashion-forward eyewear designs to the forefront, and a dynamic Sports Agency that is revolutionizing athlete representation, and Trending Creative, a trailblazing agency that sets the bar for digital marketing strategies.
Indie Style records in studio, on location, and virtually. If there were a gumbo of talk-interview shows, this is it. Viewers can stream the show via Leah's Indie Style with Leah DeVon Network, also watch the show on partner cable tv networks.
Leah is a noted artist and businesswoman in her own right. She is the CEO of JaxBoy Productions. JaxBoy Productions features other innovative content creators on Leah's steaming network. Leah was also recognized as a top woman in media by The WinTrade Global Awards in London England. Leah is an engaging, talented, and inspiring hosts who make her guest feel right at home.
To learn more about the show, see past guests, and where you can watch the show visit indiestyletv.com.
US Media Contact
Britney Llantin Trending Creative PR
International Media Contact
Tsungai Muzanenhamo
Media Contact
Company Name: JaxBoy Productions
Contact Person: Britney Llantin
Email: Send Email
City: Atlanta
Country: United States
Website: www.indiestyletv.com